5 Tips on Getting Vehicle Dent Repair
Metro Dent – Hair Free Car provides vehicle dent repair in McKinney, TX, Dallas, Fort Worth, Carrollton, TX, Plano, TX, Frisco.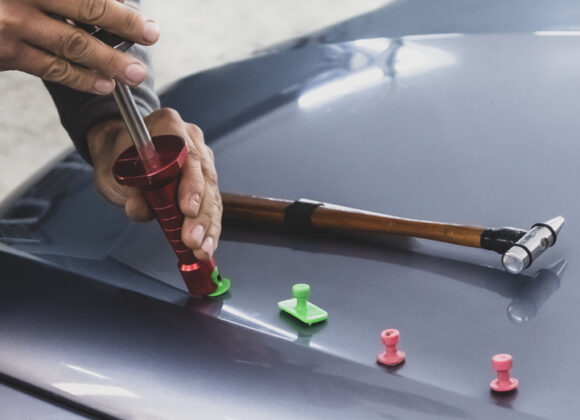 Here are five tips for vehicle dent repair:
Assess the Damage: Before attempting any repairs, carefully assess the extent of the dent. Determine if it's a minor dent that you can fix yourself or if it requires professional assistance. If the dent is too large, deep, or has damaged the paint, it's best to take your vehicle to a professional auto body shop.
Choose the Right Method: Depending on the type and severity of the dent, there are various methods you can use for repair. Some common DIY techniques include using a plunger or a dent removal kit with suction cups. For more advanced repairs, you may need to use specialized tools or techniques such as paintless dent repair (PDR). Research the available options and choose the method that suits your skill level and the dent's characteristics.
Clean and Prepare the Area: Before attempting any repairs, make sure to thoroughly clean the damaged area. Use mild soap and water to remove dirt, grime, and any loose debris. Additionally, you may need to sand the area around the dent gently to create a smooth surface for repair. Follow the specific instructions for your chosen repair method to ensure proper preparation.
Take Your Time and Be Patient: Repairing dents requires patience and attention to detail. Rushing through the process can lead to subpar results or further damage to your vehicle. Follow the instructions carefully, take your time, and make incremental adjustments when applying pressure or using tools. Step back occasionally to assess your progress and make adjustments as needed.
Finish and Protect the Repair: Once you have successfully removed or minimized the dent, it's essential to finish the repair properly. If the paint has been damaged, you may need to touch it up using an appropriate automotive paint matching the color of your vehicle. Apply a clear coat for protection and to blend the repaired area with the rest of the car's surface. Finally, consider using a wax or sealant to provide additional protection and restore the shine of the repaired area.
Remember, if you're unsure about your ability to repair a dent or if it's a complex job, it's always best to seek professional assistance from a qualified auto body shop. Please call us.