Hail Repair in Frisco, Carrollton, Lewisville, Dallas, Fort Worth, Denton Plano, McKinney, TX, and the Surrounding Areas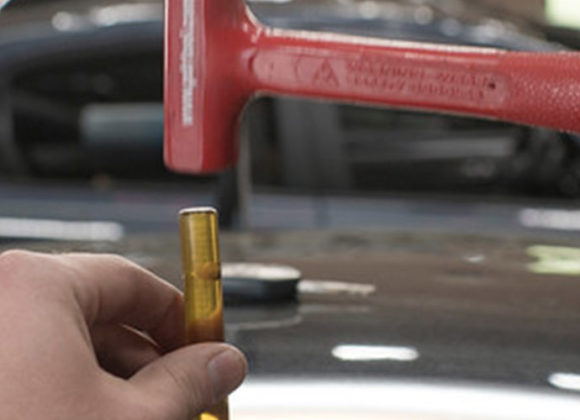 Our name says it all. We've been fixing hail damage from strong Texas storms for over 25 years with an A+ rating. Don't trust anybody shop to repair your hail damage. Go with the experts who know how to get your car back to its original appearance quickly and conveniently. We'll even come to the surrounding areas of Lewisville, Denton, Frisco and Plano with our mobile dent repair service.
Auto Dent Repair
You've heard about dent repairs shops that are really detailing shops and only able to repair small dents. Those shops cannot repair other damage caused by hail including broken windows and windshields, chipped paint, or damaged mirrors. After all, hail hits every part of the car from front to back. You need a full-service body shop for these repairs, not just a dent removal shop. While you may think all this work can be frustrating, we handle everyone in one place. And luckily for residents throughout the Dalles/Fort Worth area, including Carrollton and McKinney, Metro Dent is open late, including weekends, to get your car back to its original appearance.
Insurance Claims and Hail Repair
We know working with your insurance can be difficult. That's why Metro Dent is your best choice when it comes to hail repair insurance claims. After you file the initial claim, we will work closely with your insurance company to make sure all work is covered before starting the car dent repair process. This way, you will know what your insurance is covering and if you have any responsibility. And, if you do have a deductible, qualifying repairs will have the deductible covered by Metro Dent with no out-of-pocket cost.
Hail repair can sometimes be a quick process handled quicker than you think. If hail damage hasn't compromised the exterior finish, Metro Dent can repair the dented surface without having to touch up or repaint your vehicle. In fact, we can service the Dallas/Fort Worth are with mobile dent repair. We are in Lewisville and travel throughout the surrounding areas including Denton, Frisco, Carrolton, Plano and McKinney. If your city is not listed, call us for details.
Best Body Shop with Hail Repair
Occasionally we'll have a storm in the DFW area that causes heavy damage. In this case, you might have to bring us your car so our trained technicians can fully repair any surface damages including paint repair. We also have a convenient pickup and drop service. Or, you can take advantage of our on-site car rental service. Either way, we do our best to make hail repair easy for you.
For Paintless Dent Repairs, Collision Repair, and Body Shop Services contact Metro Dent today.
Call Now