Paintless Dent Removal, Dent Repair, and Hail Damage Repair in Little Elm, TX
Repair your vehicle today – contact Metro Dent!
Have a car dent you need repaired? At Metro Dent, our world-class auto dent repair services provide the highest-quality results. For vehicle owners in Little Elm, TX, we've been the number one option for more than 25 years.
The customers get center stage for all our repair jobs at Metro Dent. We provide hands-on work with a personal touch, caring for your vehicle like our own. We also offer pickup and delivery services, so you don't even have to leave your home or workplace. When it comes to auto dents, you need a team of professionals you can trust. We provide the following solutions to all your exterior repair needs:
Paintless dent removal
Paintless dent repair
Hail damage repair
Mini detailing
And more!
Auto Dent Repair in Little Elm, TX
Whatever type of repair you need, our team of experts makes sure your car looks its best when you get back behind the wheel. Residents in Little Elm, TX, look nowhere else but Metro Dent for auto dent repair.
We don't just fix dents and dings. We also do the following:
Pick up/drop off your vehicle at your home or workplace
Offer on-site rental cars, so you don't miss any part of your schedule
File insurance claims to mitigate and even remove any cost to you
Need an auto dent repair service in Little Elm, TX? At Metro Dent, we get the job done right. Contact us today!
Paintless Dent Repair Near Little Elm, Texas
Don't overpay to fix dents and depressions in your vehicle's body panels. In the past, this kind of damage would leave you with a long, inconvenient, expensive repair process. But with paintless dent repair, we can do the work faster, more conveniently, and at just a fraction of the cost.
If your car has sustained no paint damage, we can use our specialized tech and equipment to fix the dent or ding. Our best-in-class tools work around the affected area, smoothing it out and leaving the paint intact. This means no harm to the factory finish and paint job.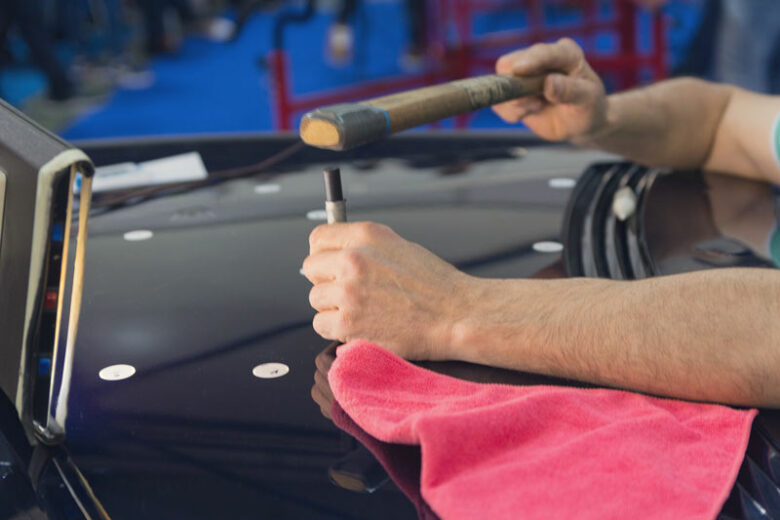 Get Auto Dent Repair Today!
Little Elm, TX, has a beautiful, natural setting for residents and visitors to live, play, and enjoy life. The city balances its fast-growing population with hometown allure to provide a wonderful experience for everyone. As part of the Dallas-Fort Worth metroplex, the city offers exceptional business, education, entertainment, and sports opportunities.
At Metro Dent, we provide the best paintless dent repair services to car owners in Little Elm, TX. Contact us today to speak with a specialist about your auto dent repair needs and schedule your appointment. We are located on the East side of Lewisville, TX on E State Hwy 121.