Hail Damage Repair, Auto Dent Repair, and Paintless Dent Repair in Oak Point, TX
Auto body dents are bound to happen for even the most careful drivers. When you find dents and dings on your car, you don't need to panic, though.
For over a quarter of a century, the experts from Metro Dent have served residents of Oak Point, TX, with exceptional auto dent repair that saves them time and money.
Schedule Auto Dent Repair with Metro Dent Today
When your car has dents from hail damage, a parking lot mishap, or a fender bender, turn to the auto dent and hail damage repair specialists Oak Point trusts.
Contact Metro Dent today for more information and an estimate.
Affordable Oak Point, TX Auto Dent Repair
Living in Oak Point means enjoying a mild climate, but any Texan can tell you that severe storms are always possible. When a storm causes hail damage to your vehicle, you don't have to wait weeks for auto dent repair. Our paintless dent removal process can restore a smooth finish in just a day or two at a lower cost than other repairs.
In addition to offering an unmatched level of expertise, Metro Dent's customer service is second-to-none. From convenient drop-off and pick-up services to help with insurance claims, we make the auto dent repair process as stress-free as possible.
Paintless Dent Removal in Oak Point, TX
If the paint on your vehicle is still intact, we can perform paintless dent removal to eliminate dents.
Our technicians implement the most advanced tools and technology to gently manipulate the dent, preserving your car's original finish. If paintless dent repair isn't possible due to the extent of the damage, our full-service auto body shop can make repairs to make your car look new again.
Contact our team if you're interested in our auto dent repair in Oak Point, TX, or would like a free estimate.
We're ready to help you get your car back on the road as quickly as possible.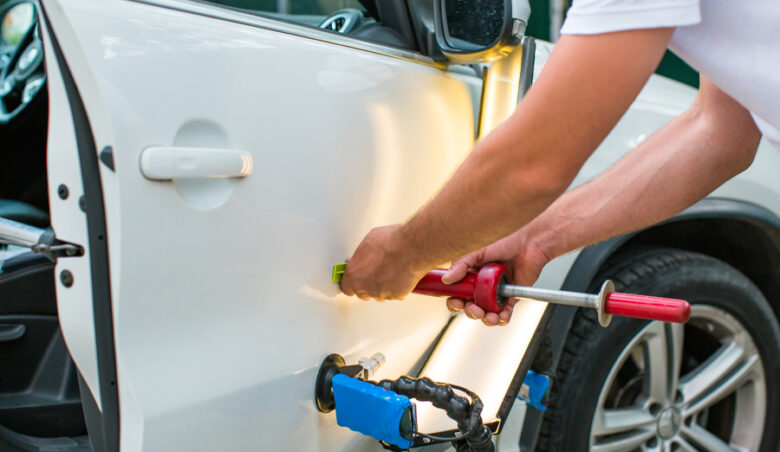 Oak Point, Texas
One of the Dallas-Ft. Worth Metroplex's smallest suburbs, with fewer than 3,000 residents, Oak Point, TX, offers tranquility and serenity with easy access to urban amenities. Located on a Lewisville Lake peninsula just 40 miles from Dallas, Oak Point residents enjoy a laidback, outdoors-focused lifestyle away from the hustle and bustle of the city.
Living in such a scenic area doesn't mean drivers are immune from vehicle damage. From hail storms to road debris, Oak Point, TX, residents are just as likely to find dents and dings on their cars as city dwellers. When they do, they call on Metro Dent for the area's highest-quality, most efficient auto dent repair services.