Auto Dent Repair and Dent Removal in Haslet, TX
Auto dent repair is best left to an expert. At Metro Dent, you can count on us to provide the best dent removal services in Haslet, TX.
We pride ourselves on our quality workmanship, professionalism, and devotion to customer service.
When it comes to dent and hail damage repair, we should be your first choice.
Paintless Dent Removal and Dent Repair in Haslet, TX
Dings, dents, and other car body damage used to mean expensive, lengthy appointments for bodywork and repair. Our Paintless Dent Removal (PDR) service significantly speeds up the process and allows us to fix auto body dents and hail damage without affecting the paint.
If your car doesn't have any paint damage, we can fix the dent without chipping or cracking. That means no color matching or refinishing is necessary—we can simply fix your car and have it ready to go in one to two days. PDR is also less expensive than other repair methods because it does not require repainting after bodywork.
We also accept insurance for auto dent repair. We pay the deductible for your car insurance and will coordinate activity with your insurance company, so you won't have to worry about a thing. We always go above and beyond to exceed client expectations. You can have peace of mind knowing that your car is in the hands of experts.
Hail Damage Repair and Paintless Dent Repair
Some of the most common sources of dents and dings include hail damage, road debris, and fallen tree branches. Our paintless dent repair service can fix dents of most sizes on most vehicles, including cars, motorcycles, trucks, tractor-trailers, commercial vehicles, and even airplanes! As long as the underlying paint layer has sustained damage, we can fix the dent.
Metro Dent takes great pains to provide the best auto dent repair service in Haslet, TX. All work we provide has our 100% lifetime satisfaction guarantee. If you are not happy with the results, we will fix our mistake for you 100% free of charge; contact us today to repair your dents.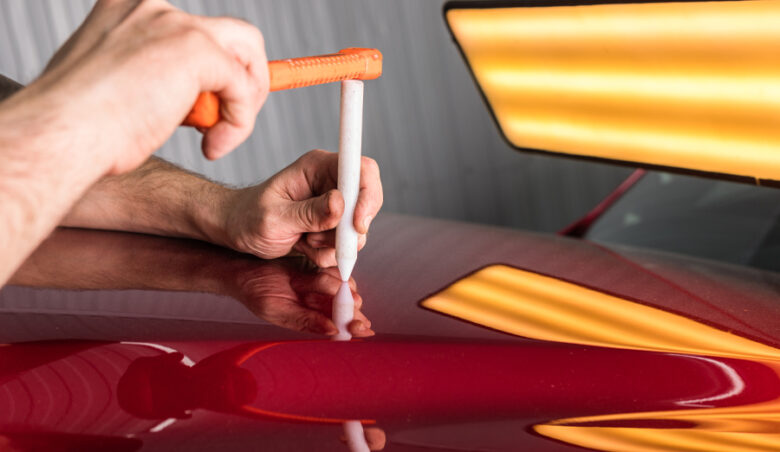 Haslet, Texas
Located 15 miles north of Fort Worth, Haslet, TX, was a railroad town during the 19th century and is currently home to nearly 2,000 residents.
Haslet's location makes it an important transportation and distribution hub. The quaint community features several locally-owned businesses and is known for the Wat Buddharatanaram temple near the city.