Dent Repair, Hail Damage Repair, and Paintless Dent Removal in Highland Park, TX
When your car has an accident or hail damage, you can count on Metro Dent for high-quality auto dent repair in Highland Park, TX.
Our auto repair professionals provide unmatched paintless dent removal, hail damage repair, and auto dent repair services.
Whether you need dent repair or paintless dent removal, we'll make sure your vehicle looks brand new again. Contact us today to schedule a free consultation and estimate.
Auto Dent Restoration in Highland Park, TX
Our dent removal service is available for all vehicle makes and models. We have experts on hand trained in seamless auto dent removal.
When you contact us, we'll assess your vehicle, determine the best course of action, and restore the dents to their original shape.
Our process for removing auto-body dents involves:
A thorough inspection of the dent, including the size and type of damage.
An assessment of whether or not we can repair the dent. If it is unrepairable, our auto technicians will give you a free quote on fixing your entire vehicle's exterior. We may offer a one-time fix or a discount.
A discussion about which method of repair would be best for your situation—we have three options:
Paintless Dent Repair (PDR) – Use special tools to push out dents without affecting your paint
Traditional Bodywork Repair – Fill in dents with putty and tape and blend it into your paint with sandpaper.
Paint Job – If you've got big dents and dings, this method may be best for you
Paintless Dent Removal Services for Highland Park, Texas
Paintless dent repair is an efficient method of removing dents from your vehicle. The repair process requires no paint, making it much less expensive than traditional body repairs.
We work with all insurance companies. Even if you don't have coverage for our auto dent repair in Highland Park, TX, we can still help!
Contact our team if you're interested in our auto dent repair in Highland Park, TX, or would like a free estimate.
We're ready to help you get your car back on the road as quickly as possible.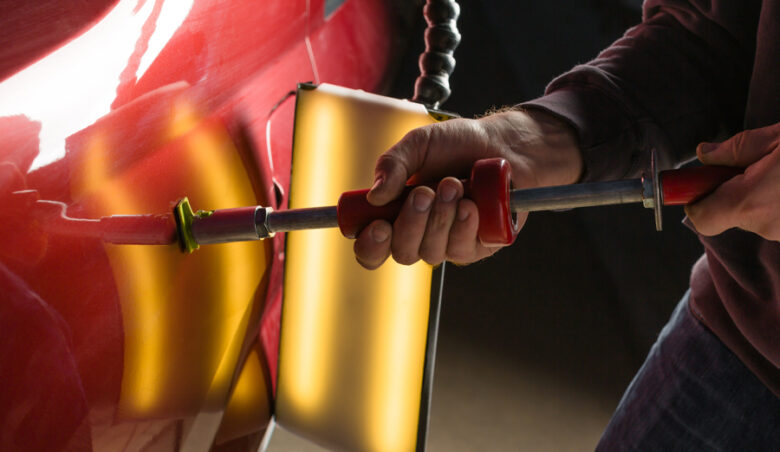 Highland Park, Texas
Highland Park, a city in Dallas County, is the wealthiest community in Texas, with homes valued at more than $1 million.
As of 2020, the city's population stood at approximately 9,000. Highland Park is renowned for its beautiful architecture and high quality of life.