Body Shop for Auto Dent Removal, PDR, and Hail Damage Repair in Corinth, TX
Metro Dent is the leading local auto body shop for paintless dent removal, hail damage repair, and exterior vehicle restorations in Corinth, TX. Our company has over 25 years of professional experience providing high-quality auto dent repair services for fleet vehicles, family vans, and sports cars in the Greater Fort Worth area.
We provide our clients with a 100% satisfaction guarantee, which we fulfill by adhering to deadlines, having no hidden charges, and using state-of-the-art equipment to make their vehicles look brand-new again. Paintless dent repair is a relatively new technology, and not all repair shops in Texas can use it efficiently. Fortunately, Metro Dent specializes in numerous cutting-edge repair approaches, and paintless repair has been in our rotation for many years.
Get Directions
Paintless Dent Removal in Corinth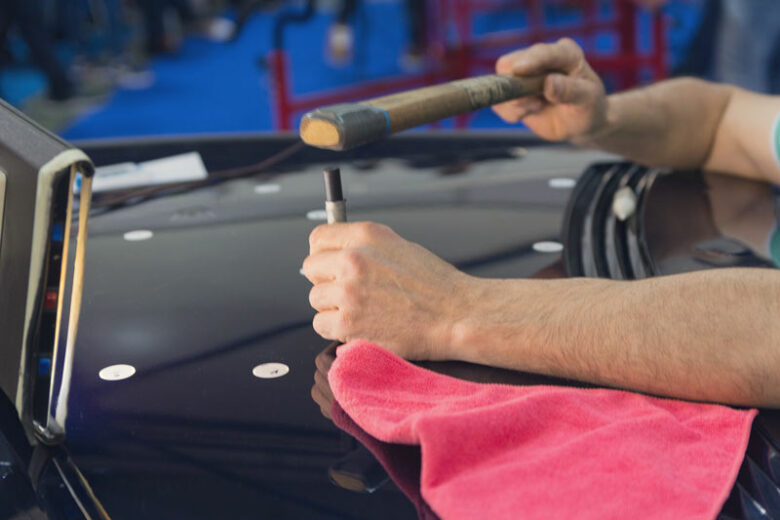 For many clients, dents can get in the way of showing off their new truck or high-performance vehicle to fellow car enthusiasts and co-workers. However, we serve many customers with dings, dents, and scrapes that can put a damper on their investments. We know many people in Corinth, TX, who own show cars, and cosmetic damage can cause rust and mold to develop on the exteriors.
Our technicians are the leading providers of paintless dent repair in Texas. We can offer it as a concierge service, where we come to you!
Paintless auto dent repair does not require waxing, paint reapplication, bodywork, or sanding. Our clients love it because it maintains the structural integrity of their vehicles with no risk of gradient defects and stains from putty or paint overlays. It also requires shorter service times, and we can repair multiple cars in your fleet in one day. Read our PDR FAQ for more information.
Auto Dent Repair in Corinth, Texas
Corinth, TX, is one of our favorite service areas in the Dallas-Fort Worth Metroplex. The city government hosts many community events that bring enthusiasts, business owners, and everyday residents in one spot, like the Highland Village Balloon Festival and the Denton Arts and Jazz Festival. The average resident from Corinth, TX, has two vehicles in their garages. We love keeping them well-maintained and operational, so they can participate in these events and drive their kids to school in peace.
Whether you have hail damage, a door ding, or something more substantial, our mechanics are ready to help! For hail damage repair or other vehicle dent repair, trust Metro Dent!
Contact us today for high-quality and cost-efficient auto dent repair in Corinth and a free consultation. We are located on the East side of Lewisville, TX on E State Hwy 121, and offer concierge services as well.