Auto Dent Repair, Paintless Dent Repair, and Hail Damage Removal in Irving, TX
Have you recently been involved in a car accident? The auto technicians at Metro Dent are ready to help you with auto dent repair and hail damage removal in Irving, TX. You can count on our repair technicians to do a quick yet thorough job that makes your car roadworthy again.
We understand how frustrating it is when your car suffers damage or trauma. Our capable team does everything possible to ensure our customers are happy with our results. We also offer free estimates, free pickup and delivery service, and quick turnaround times on all repairs.
Contact us for a free consultation and to obtain your free quote.
Paintless Dent Removal in Irving, TX
Paintless dent repair is an innovative auto repair procedure that doesn't affect your paint job. At our auto shop, we offer this premium auto dent repair to Irving, TX customers. It's an easy and affordable way to get rid of dents and dings without incurring paint damage.
The restoration process involves strategically applying heat and pressure to remove a dent from the metal of your car without altering your vehicle's finish. This technique requires specialized equipment and training, and we've got both in spades!
If you get a dent while driving through Irving, you won't have to worry about paying for new body parts or repainting your vehicle. We can fix that problem quickly—and affordably!
Hail Damage Repair Services for Irving, Texas
If you experience hail damage to your vehicle, we can help you.
Our technicians can handle all manner of hail damage, including auto body dents, dings, and shattered windshields. We also offer dent repair services for other types of automotive bodywork, such as rust repair and frame straightening.
Contact us today to learn more about our comprehensive hail damage and auto dent repair in Irving, TX. You can also schedule your free estimate with our friendly team.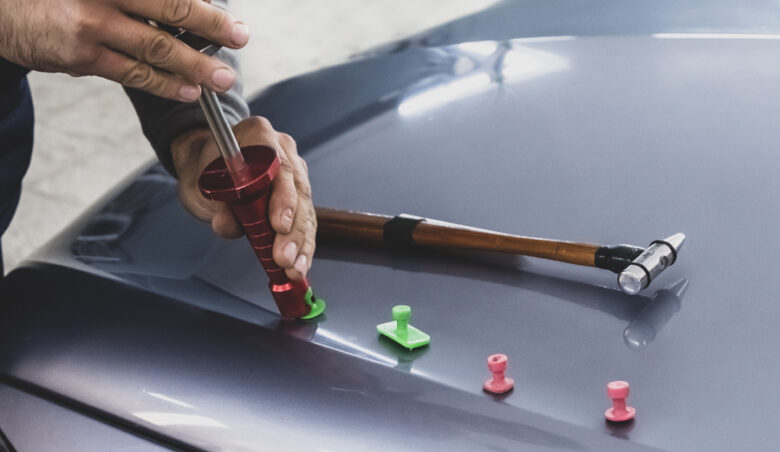 Irving, Texas
Irving, Texas is a city in the Dallas-Fort Worth Metroplex. It sits in the northwest part of the city, close to many great neighborhoods and schools. Irving has a population of about 250,000 people and has been growing steadily since its founding in 1903.
In 2016, Forbes magazine named Irving "America's Safest City" to retire. Irving has a bustling nightlife scene and several noted restaurants and bars. If you're looking for a fun-filled trip, Irving has it all!