Auto Dent Repair and Paintless Dent Removal in North Dallas, TX
Dents can make your car look old and worn, even if it is still in excellent condition. Paintless dent repair is a quick and cost-effective way to restore your car to like-new condition. When seeking reliable auto dent repair in North Dallas, TX, you can count on Metro Dent!
With over two decades of experience in auto repair, we can complete any repair job with 100% satisfaction. We employ the latest hail repair and collision restoration technology to ensure fast, efficient service on minor and larger dents.
We have a team of certified and experienced dent repair and paintless dent removal technicians. You can rest assured that your car is in expert hands at Metro Dent. Contact us today to schedule an appointment for auto dent repair near North Dallas, TX.
Get Directions
Dent Repair in North Dallas, TX
Metro Dent is the go-to auto dent repair shop for residents in North Dallas, TX, and the surrounding areas.
We are a locally owned and operated body repair shop with a passion for delivering the best services to our customers. Besides hiring the best auto dent repair technicians, we use state-of-the-art technology to uphold the industry's best standards.
We can also help when insurance claims are involved. You can trust us to file your insurance and cover the deductible under appropriate circumstances. Additionally, after completing the repair work, we provide a mini detail service to ensure your car sparkles when you get back on the road.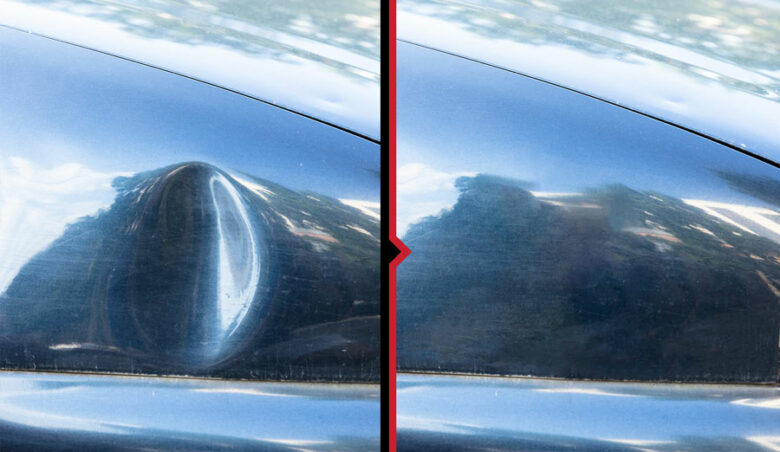 Paintless Dent Repair near North Dallas, Texas
North Dallas includes several communities in Dallas, Texas. Most of the area is in Dallas County, whereas a small portion is in Denton and Collin Counties. Notable business districts in North Dallas include the Preston Center, Telecom Corridor, and the Platinum Corridor.
Looking for reliable paintless auto dent repair in the North Dallas area? You can't go wrong with Metro Dent. We restore cars with hail damage, door dings, or other minor dents using our paintless dent repair technique.
This proven technique uses special tools like a suction cup to work the affected area smoothly without damaging the outer paint coat. If the vehicle has chipped paint, we will restore the car to its pre-accident condition using our effective restoration techniques. These methods include body filler and paint services.
Read our PDR FAQ or contact us today to get a free estimate!
At Metro Dent, we provide the best paintless dent repair services to car owners in North Dallas, TX. Contact us today to speak with a specialist about your auto dent repair needs and schedule your appointment. We are located on the East side of Lewisville, TX on E State Hwy 121.